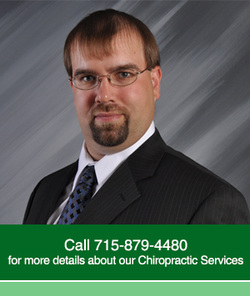 About Elk Mound Chiropractic LLC of Elk Mound, WI
Elk Mound Chiropractic LLC
Elk Mound Chiropractic LLC has always maintained a distinguished reputation throughout the chiropractic industry.
It is a privilege for us to highlight our extraordinary staff for you.
Contact Elk Mound Chiropractic LLC
today at 715-879-4480
to schedule an appointment, or browse our website for more information about
new patient information
,
services offered
.
Biography
Dr. Ed Rygiel was born in Chippewa Falls and raised in the Stanley-Boyd area in Chippewa County, Wisconsin. He grew up on his family dairy farm learning the value of a family and of hard work. While in High School, he earned varsity athletic letters in football, golf and wrestling. After High School Dr. Ed attended the University of Wisconsin Eau Claire. While working on his Biology Degree at Eau Claire he continued to wrestle for the Blugolds. Once his undergraduate degree was finished, Dr. Ed went to Northwestern Health Science University in Bloomington, MN to pursue his dream of being a chiropractor. While at Northwestern he was elected to represent his class in the student senate, a position that he held for four terms. He also was a teaching assistant in several classes including patient interviewing, X-ray reading, and several adjusting classes. After graduation Dr. Ed began looking for a small town similar to the one he grew up in. Elk Mound fit the bill. In August 2009 Elk Mound was opened to serve the village of Elk Mound and surrounding area with quality chiropractic care to fulfill the mission of improving people's lives one patient at a time!
He married his wife Nicole in 2009 and in 2014 he welcomed twin sons Collin and Noah. They currently live in Elk Mound.
My Chiropractic Story
Before my senior year of High School, while getting ready for the up coming football season, I hurt my back in the weight room at school. I was sore for a couple days but took it easy for a the rest of the summer. When football started I was able to run with no problem. Once we were in pads and started have contact in practice, my back pain got really bad. It was hard for me to bend over and put socks and shoes on. One of the coaches told me to go and see the local chiropractor. I was a little worried, I had never heard of a chiropractor before but the worry soon faded. After having my low back adjusted by the chiropractor, I was able to bend over and touch my toes and wiggle all around. The best part is I was almost pain free. It was that point that I knew I wanted to be a chiropractor and help other people like I was helped with chiropractic care.
---